As announced at this week's meeting, the following candidates have been successfully nominated for the 2022-23 Columbia-Willamette Chapter Board. You can expect to receive a ballot in the next week or two. Please vote promptly. At this time we expect to announce the new officers and board at our April meeting. Thank you to both nominees and members for participating in this important process.
Here is our slate of candidates. Please note both non-voting positions followed by those positions that will be placed on the ballot.

Non Voting Positions (progression specified in bylaws)
President
Jimmy Gibbons

Jimmy Gibbons is the current President Elect of the CWC. He is a Risk Specialist with the City of Portland's Risk Management division. Jimmy has a Bachelor's degree in Marketing and Management from Portland State University. Prior to coming to the City, Jimmy spent 19 years at Safeway working in the stores and almost 10 years in the Risk Management department. While at Safeway, Jimmy worked to improve the safety programs of 41 stores across Oregon and SW Washington. Since 2013, Jimmy has worked for the City on several safety programs for the City of Portland including the Ergonomic program, Driver Program, Safety Committee consulting, and planning the annual Safety Committee Conference. When not at work Jimmy enjoys traveling and spending time with family and friends.
President Elect
Steven Frost
Steven Frost is the current CWC Vice President. Steven Frost joined the construction safety world after going back to school at the age of 25 and obtaining a Master's in Environmental Studies. He also obtained a certification in Construction Management and is a LEED AP BD+C, CHST, ASP, and CSP. In 2017, he joined Howard S. Wright a Balfour Beatty company as a Safety Manager for the Portland area. Over his career, he has made many contributions to local training programs. Steven is recognized nationally for his work on suicide prevention and mental health initiatives. He brings his advocacy to this organization by speaking at the monthly membership meetings, conducting QPR sessions as Professional Development Courses, and coordinating meetings that promote Positive Job Culture and Diversity Equity and Inclusion. Steven actively promotes mental well-being resources for the American Heart Association's Hard Hats with Heart where he contributes as an Ambassador. It is through this program that Steven has contributed to videos, webinars, and given testimonials. He promotes the link between physical and mental well-being. "By taking care of your heart, you're taking care of your head".

Treasurer
Soren Bjerregaard
Soren Bjerregaard, CSP, is a Senior Safety Management Consultant at SAIF. Soren is currently the Treasurer-Elect for the Columbia-Willamette Chapter ASSP.
Voting Positions (will be on ballot)
Vice President (2 candidates vote for 1)
Rob Dahl
Rob Dahl is the Director of Global Environmental Health & Safety for MiTek, a leading international residential and commercial building group and building systems innovator, headquartered in St. Louis, Missouri. Rob has been a dedicated safety professional for over 40 years. He spent 25 years in the fire service, with 10 of those years serving as Fire Chief. Following his fire service career, he served as Environmental Health & Safety Director for Pacific University and later for the Oregon Zoo. He is the founder and President of Safety Consulting Services, and has provided health and safety consulting and risk management services for a number of public and private sector companies, and he is a proud US Marine Corps veteran. Rob has been an adjunct professor at Lower Columbia and Portland Community Colleges for over 25 years teaching courses in occupational safety and health, emergency management and firefighter health, safety and survival. He is an established subject matter expert, and a strong leader and team builder as well as a sought after speaker and trainer. Rob is committed to several charitable ventures; primarily programs serving military veterans and at-risk youth and children.
Rob has three grown children and is a very proud grandpa! He lives in Longview, Washington with his energetic pup "Koda," and his life partner Pam, a community hospice care provider and profound fitness fanatic.

Vice President (2 candidates, vote for 1)
Brittany Johnston
Brittany Johnston is a Senior Safety Management Consultant at SAIF Corporation, where she has been consulting with Oregon businesses across a variety of industries in safety and health culture, leadership, and compliance since 2013. She is passionate about collaboration, helping others, and providing the highest level of service to her customers. Prior to joining SAIF, she oversaw the environmental compliance of a steel manufacturing plant for three years. In her free time, Brittany enjoys golfing, watching football and planning parties. She has a Bachelor of Science degree from Linfield College, a Master's in Business Administration from Portland State University and is a Certified Safety Professional. She has been actively involved with the ASSP Columbia Willamette Chapter since 2016 and has served as a Delegate-At-Large, a House Delegate, Treasurer-Elect, Treasurer and is currently the Membership Committee Chair. Brittany has also been volunteering as a Track Lead on the GOSH Program Planning Committee since 2018 and has been a member of the Oregon Young Employee Safety Coalition since 2014. Brittany is excited about the opportunity to continue serving the Chapter in this leadership role, working alongside such a fun and passionate group of safety and health professionals.
Secretary (1 candidate, vote for 1)
Terra Wheeler
Terra is one of the most outstanding safety professionals of the past 100 years. Her superpower is building relationships and shining light in dark places – always on the side of the truth. She's worked in academia, consulting, public sector and has her own copywriting and historic preservation business. She fights for the underdog with impeccable grace and good hair. She is the biracial beauty responsible for the exquisite monthly chapter newsletter, a publication full of useful information for chapter members. Her meeting minutes are known across the nation for their accuracy and red font.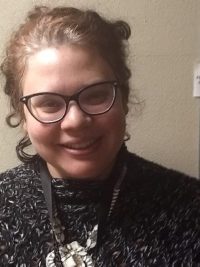 Treasurer-Elect (1 candidate, vote for 1)
Courney Marriott
Courtney Merriott is a SAIF senior safety management consultant who grew up in Willamette Valley wine country. She spent many years working in food production with a focus on locally-grown ingredients. While earning a bachelor's degree in Spanish foreign language and literature from Oregon State University, she travelled to Mexico and Ecuador. Prior to SAIF she spent two years living abroad and teaching in Spain. Now, she leads SAIF's Agricultural Safety Seminars across the state and is a certified safety professional.
House Delegates (2 candidates, vote for 2)
Kerry Byun
Kerry Byun is a Principal Safety Engineer for Microchip Technology overseeing safety at the Gresham, Beaverton, and Bend sites. She has 20 years of safety experience working in several industries including engineering, environmental, and construction consulting for CH2M Hill and chemical manufacturing at Fujimi Corporation. Kerry holds the accredited designation of a Certified Safety Professional (CSP) and Certified Hazardous Material Manager (CHMM). Kerry is an authorized OSHA 10 hour and 30 hour trainer and holds her certification as a Radiation Safety Officer. Kerry is currently running for re-election as House Delegate. She has been a member of the Columbia Willamette Chapter-ASSP since 2013 and has served on the Columbia Willamette Chapter ASSP board in 2015 as chapter Treasurer, Gosh Sponsorship Committee in 2017. In her free time, Kerry enjoys cooking, studying Korean language, and watching Korean dramas. Kerry values developing new skills and is currently working on obtaining her Certified Industrial Hygienist certificate.

House Delegates (2 candidates, vote for 2)
Kyle DeHart
Kyle DeHart is a Senior Safety Management Consultant with SAIF Corporation and has been working in the fields of environmental management and occupational health and safety since 2014. Prior to SAIF, Kyle was with the City of Portland's Bureau of Parks & Recreation where he worked as a Risk Specialist helping the Bureau navigate various issues such as COVID-19, asbestos, lead-based paint, lead-in-water, wildfire smoke, and heat. In the past few years, he has assisted with both the GOSH Program planning and Northwest Occupational Health Conference planning. Kyle holds a Master of Science in Industrial Hygiene from Montana Tech and the BCSP's Graduate Safety Practitioner designation. In his free time, Kyle enjoys rock climbing, mountaineering, playing guitar, and listening to his extensive collection of vinyl records. Having been a Columbia Willamette Chapter Member since 2018 he is excited to be of greater service to help advance chapter initiatives and goals."

Delegates at Large (2 candidates, vote for 2)
Mariah Anderson
Mariah began her career in safety when she joined D2000 Safety four years ago where she is Vice President of Marketing. In charge of marketing and customer relations, she was able to learn a great deal about the needs of those whose work exposes them to hazards. She also joined the ASSP and served as the editor and webmaster for the Willamette chapter. She hopes to be able to further contribute as a member of the Executive Board in the coming year. When not spending time with her husband and two small daughters, Mariah's hobbies include painting and graphic design.

Delegates at Large (2 candidates, vote for 2)
Jill Jones
Jill Jones is currently a Delegate at Large for the Columbia Willamette Chapter. She is a Risk Control Consultant for BITCO Insurance Companies, and has previous experiencing working in safety and health in construction. Jill has her Construction Helath and Safety Technician certification from BCSP and an Associate's Degree in Occupational Safety and Health Technology.