We offer congratulations to our recent Safety Professional of the Year awardees. Safety Professional of the Year is awarded annually to a member who demonstrates outstanding achievement in the occupational safety and health (OSH) field while also advancing the OSH profession overall. This year, we have four Oregon-based SPY awardees to congratulate!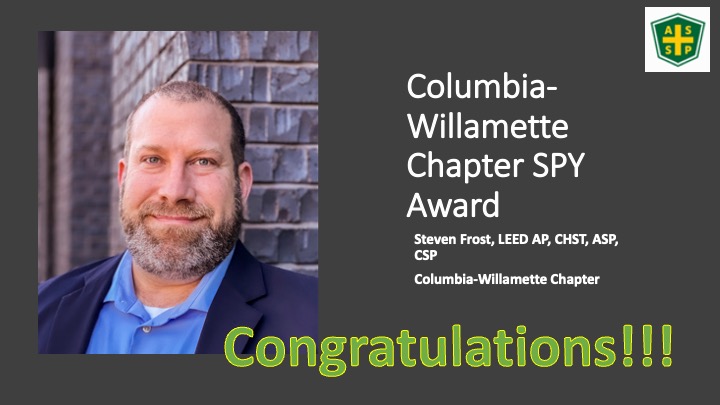 The 2022 Chapter SPY Award is Steven Frost. Steven is the current Columbia-Willamette Chapter Vice President and is widely respected and appreciated for his commitment to safety, mental health and suicide prevention. He is a leader, mentor and active member of many safety and health professional communities. Steve works as the Site Safety Health and Environmental Manager at Howard S. Wright. While we announced this SPY award at our chapter meeting last week, the full announcement and delivery of his SPY award will be at our in person June 3 Officer Installation Celebration. We hope you join us. Register here.
Dede Montgomery, current CWC President, was recently awarded ASSP Region 1 SPY Award. ASSP Region 1 includes members and chapters in Alaska, Washington, Oregon, California and Hawaii. Dede has more than 35 years of experience as a safety and health professional, and is widely known as an educator, collaborator and mentor. Dede works at the Oregon Institute of Occupational Health Sciences, OHSU.
We also shout out to our fellow Oregon Chapter SPY members upon their recent SPY awards. Sarah Cipriano, ARM, SPHR, received the Women in Safety Excellence (WISE) Safety Professional of the Year. Sarah is the current Secretary and active member of the Broken Top Chapter. Sarah is a highly accomplished Senior Risk Management Consultant at SAIF.
We are also excited to congratulate Naomi Hernandez, ASP, upon her being awarded SPY on behalf of the Hispanic Safety Professional Interest Group. Naomi is a board delegate and active member of the Cascade ASSP Chapter and Hispanic Safety Professionals Community Leader. Naomi is a highly respected safety and health professional and works as Latinx Bilingual Safety Consultant at SAIF.
We congratulate each of these deserving safety professionals.